Revuelta, Tradicional, Plant Based, or build your own? How do you pupusa?
If you haven't tried one of Jeanette's delicious pupusas, then you're really missing out on one of the best pupusas in Atlanta.
Similar to an arepa, pupusas are made from corn meal and stuffed with delicious ingredients, such as chicharron, beans and cheese. They're topped with a cabbage mix, called curtido, and a house-made salsa roja.
This traditional pupusa recipe came all the way from El Salvador, and now, you can have it any way you want it. Yes, you read that
right.
DIY pupusas.
This means, you can choose from any of our fresh ingredients to customize your pupusa recipe.
Stop by for the best pupusa in Atlanta Monday to Friday at Buenos Dias Café.
Or visit our newest location located at MET ATL, The Window, from Monday to Friday from 11:30AM to 2PM.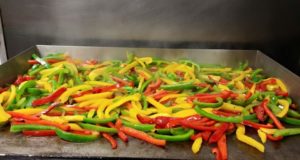 I know what you're asking yourself, can Latin food be vegan AND delicious? YES, vegan food is VERY good. Just because something is vegan doesn't mean it lacks flavor. Flavorless is the last thing our vegan pupusas are. If you want to know where to find the best vegan pupusas in Atlanta, you've come to the right place. No one does Salvadoran Pupusas like Buenos Dias Café.
Our vegan pupusas are stuffed with mushroom, zucchini, and spinach and still topped with curtido and that home-made salsa that
you love. We have everything from vegan quesadillas, tacos, quinoa bowls, and sandwiches.
If you're looking for something different you can always
create a unique vegan pupusa with our 'build your own' option.