Traditional And Delicious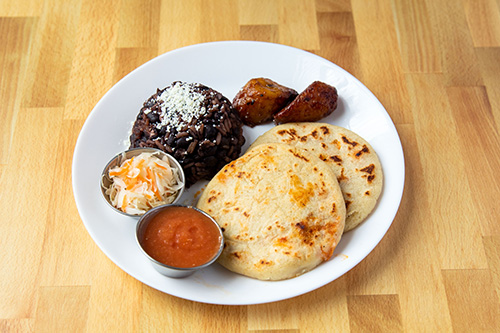 Nothing says comfort Salvadorian food like Pupusas. Our pupusas are made with the freshest ingredients and cooked to perfection using traditional Salvadoran recipes. This ensures that every bite is bursting with flavor and authenticity. Since 2012 We're known for our blend of bold flavors with reliably real ingredients and we are committed to making every Pupusa bite worthwhile. We proudly serve real food, which means making it fresh every day. It is simple, however it may be the hard way to do things, but it's the right way!
We believe that there is a connection between how produce is grown, prepared, cooked and how it tastes. We do not use artificial flavors, NO preserves, NO artificial colors, No can openers, NO shortcuts. Nobody should settle for less. Real food is better for us and our families, better for our communities, better for our planet and future generations.
As food-focused people, our mission of Cultivating a Better Community means more than just using real ingredients.


Wide Variety Of Fillings and Offerings
We pride ourselves on offering a broad spectrum of delectable filling options
to create an explosion of savory, tangy, sweet and even umami flavors in your mouth.
From savory pork and chicken to hearty homemade beans, sweet plantains, and cheesy cheese, there's a flavor to satisfy every palate. In addition to crafting a health-conscious menu, we recognize our customers' varied dietary requirements. Therefore, we've thoughtfully curated an expansive selection of vegetarian and vegan pupusas.
Our Salvadorean food catering is renowned for its authenticity and flavor, making us a preferred choice for catering of any size from birthday parties, weddings, community and corporate events and gathering office lunches. Additionally, we have launched an online ordering system for catering to make the process smoother and hassle-free.
We prioritize convenience for our customers, which is why we offer pupusas delivery in ATL. For those seeking meal prep services, look no further. Our healthy prep meals are perfect for individuals searching for 'meal prep pick up near me.' Whether you're a busy professional, a fitness enthusiast looking for bodybuilding meal prep or someone who simply enjoys good food, our meal prep services have got you covered.
So come experience our culinary delights – whether it's our catering services with our popular Pupusas or our meal prep options, we promise a gastronomic journey that will keep you coming back for more.